Increasing efficiency in building operation through energy monitoring (energy management system = EMS)
Achieving an energy-efficient building with the aid of professional energy counselling and analysis:
Peneder offers energy monitoring as a smart tool for increasing energy efficiency in companies. Recording, regulating and controlling energy consumption and costs increases the efficiency of buildings and machinery.
REAL-TIME DATA – conditioning the room climate for precise manufacturing processes
We manufacture precision components at state-of-the-art milling centres. The temperature in our old building was as high as 40°C in summer. In our new building from PENEDER, we remain below 26°C consistently and use EMS monitoring. This is the only way for us to guarantee adherence to the increased quality requirements of our clients.
Current temperature profile of the production hall and outside temperature
BEST PRACTICE – Long-term reduction of energy costs
The energy costs are a major cost factor in the operation of our plastics injection machines. With the aid of PENEDER's expertise we have succeeded in boosting synergies from production, building technology and the environment in our new building. The 32% savings in energy costs have been confirmed by energy monitoring.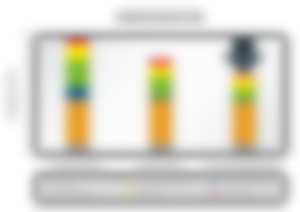 REAL-TIME DATA – Optimisation of the energy and CO2 balance
Since we operate a logistics centre, ISO 50.001 certification and documentation in accordance with energy efficiency law are important to us. With the implementation of the concept proposed by PENEDER, we have optimised our procurement of electric power and achieved proven CO2 reduction.
Current CO2 reduction of a 30 kWp photovoltaic system
We offer you individual solutions that are customised to meet your requirements.
Tel.: +43 (0) 50 5601-0